Archive December 2016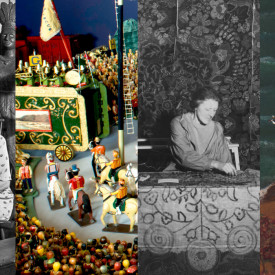 Exploring the Conservation of Folk Art
Thursday, January 26, 2017 at 4 p.m.
Shelburne Museum Objects Conservator, Nancie Ravenel, will present a lecture investigating the conservation of American folk art. How is folk art conservation similar and different from other conservation efforts, if at all?
Location: MacMillan Education Center
Smithsonian American Art Museum
8th & F St.

Art Preservation Services will be introducing a unique work light designed specifically for the conservation field at the annual Three-Ring reception.
The Connolux Conservation Task Lamp provides
Optimum color rendering properties
Extremely high light ouput
Multiple options for light distribution
Energy efficient design with a low heat ouput
Lightweight and compact design

Full-Time, Two- year Term with possible extension up to four years
Salary range: $64,650.00 to $84,044.00 / Per Year
Job Announcement Number:  17R-YH-302361-DEU-NMAAHC

We continue our 50TH ANNIVERSARY CELEBRATION by honoring three individuals who were influential in the Guild's formation: Dr. S. Dillon Ripley, Rutherford J. Gettens and Robert M. Organ.
Thursday, January 5, 2017
5:30pm to 7:30pm

The Washington Conservation Guild is 50 years old!
It is the time of year when I assess what I have accomplished so far and how much more I would like to do. One of the better things I have done has been to join the Washington Conservation Guild and become active in the local community. We are a dedicated group of people who work in conservation and related fields.
WCG, AIHA Potomac Section, and the Smithsonian co-host collaborative Professional Development Seminar "Control of Health and Safety Hazards in Museums and Collection Care".

Winterthur Museum, Garden & Library seeks two part-time conservation assistants for a two year grant-supported project to clean and lacquer or re-lacquer approximately 500 pieces from its extensive collection of early American silver. Working under the supervision of Winterthur staff in objects conservation, both conservation assistants will first receive training in the appropriate procedures used to remove failed coatings from silver and silver plated objects, gently clean the surface, remove all polish residues, and then lacquer the silver objects through brush or spray application.

The Smithsonian's National Museum of African Art is the only facility in the United States dedicated exclusively to the exhibition and preservation of Africa's traditional and contemporary arts.  With the generous support of the Andrew W. Mellon Foundation, the Museum is pleased to offer a post-graduate fellowship in conservation

The National Archives and Records Administration (Washington DC area) is seeking applicants for the position of Conservator Technician GS-7.
NASM is looking to fill a number of NTE Conservator positions which will be supporting efforts involved in the renovation of the Museum on the National Mall.