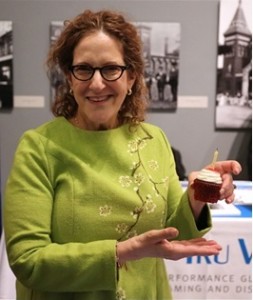 We continue our 50TH ANNIVERSARY CELEBRATION by honoring three individuals who were influential in the Guild's formation: Dr. S. Dillon Ripley, Rutherford J. Gettens and Robert M. Organ.
Thursday, January 5, 2017
5:30pm to 7:30pm
The Ripley Center, Smithsonian Institution
1100 Jefferson Dr., Washington, DC 20560, Nearest Metro stops: Smithsonian and L'Enfant Plaza, Street Parking may be available
Reception with Vendors from 5:30pm to 6:30pm
Presentations from 6:30pm to 7:30pm
Gettens Ring
Joyce Hill Stoner, "How Mr. Gettens Changed My Life"
David Espinosa, "Artistry and Technology in the Conservation Treatment of the Andrew W. Mellon Memorial Fountain"
Amanda Malkin, "The Conservation Treatment of 19th-Century Chinese Kites"
Organ Ring
Barbara Berrie and Teresa Duncan, "Gels: What's Coming Up? What's Staying Down?"
Shannon A. Brogdon-Grantham and Dr. Thomas Lam, "Introduction to Microfadometry Applications"
Connie Stromberg, "The Mace in the U.S. House of Representatives Collection: Its Use and Conservation History"
Ripley Ring
Nichole Doub, "Shipwreck: A Case Study of Conservation Within a State Agency"
Rebecca Summerour and Odile Madden, "Exploring Origins: The Technical Analysis of Two Yoruba Masquerade Ensembles at the National Museum of African Art"
Diana Gabler, "Conservation Consultation Documentation: Access to Shared Knowledge"
Our Vendors/Sponsors include: Artex, Gaylord, Hirox, Hollinger/Metal Edge, Spacesaver Interiors, Talas, Tru-Vue and University Products
We would like to thank Hartmann Fine Art Conservation Services for helping to defray the cost of this event!
This event is free to WCG members, $5 for guests & non-members.