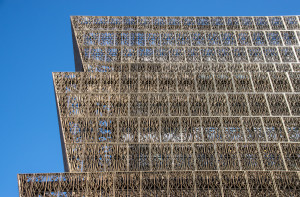 Full-Time, Two- year Term with possible extension up to four years
Salary range: $64,650.00 to $84,044.00 / Per Year
Job Announcement Number:  17R-YH-302361-DEU-NMAAHC
Series and Grade: GS-1001-11
Promotion potential: 11
Deadline: December 21, 2016. You must apply through USAjobs to be considered.
We encourage applicants to apply as soon as possible to ensure their applications are
submitted before the announcement closes. We will not consider applications which
are late due to the announcement closing once the above number of applications is reached.
Smithsonian Institution, and is located at the Pennsy NMAAHC Facility in Landover, MD.
The collections and conservation facility supports the new museum located on the National Mall in Washington, DC.  Incumbent reports to the Supervisory Conservator in the Office of Collections Management (OCM).  The museum's primary purposes are to acquire, maintain and preserve objects that document social, cultural, political, military, technological and scientific developments in the United States; to conduct scholarly research designed to make significant contributions to the body of knowledge in the fields of African American history; to publish findings for both scholarly and general audiences; and to interpret historical developments through public exhibitions and programs.
Works under the supervision of the Supervisory Conservator to:
*   design, propose, document, and complete proposed conservation treatments on a wide variety of photographic materials within the collection;
*   provide care, preservation and research on all photographs within the Museum's collections;
*   research photographs and negatives within the collection, explore photographic processes, artist's methods and generate scientific data on the properties of the materials;
*   provide preventative care measures such as monitoring and evaluating environmental controls, integrated pest management, and emergency preparedness, response and recovery of collections, product testing and quality control; and
*   provide training of staff, allied professionals, interns, fellows, volunteers and the general public.
Job open to all US citizens 17R-YH-302361-DEU-NMAAHC
https://www.usajobs.gov/GetJob/ViewDetails/458849900
Agency contact:
Yvonne Humphries
Human Resources
202-633-7448
Fax: 571-258-4052
TDD: 202-633-6409
humphriesy@si.edu