Archive January 2017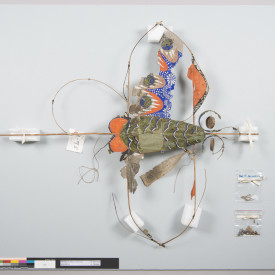 Project Title: Paper Conservation Triage Project:  Chinese Kite Collection, Summer 2017
Location:  Steven F. Udvar-Hazy Center, Emil Buehler Conservation Laboratory, Virginia
Duration:  10 weeks (May to August 2017 time frame)
Amount:  $6000
The NASM Conservation unit is pleased to offer a paper conservation internship to work with conservation staff on a Chinese paper kite collection where the intern will learn conservation techniques and practices related to the treatment of these unique paper objects. 

On January 13, 2017, Elisabeth West FitzHugh died at the age of 90 in Mitchellville MD. Elisabeth lived in the DC region since 1956. She was born on July 30, 1926 in Beirut, Lebanon. She gained her B.A. in Chemistry Vassar College in June 1947 and her M.S. in Archaeology of Western Asia at the University of London Institute of Archaeology, June 1954.

Washington Conservation Guild Presents the Sixth Meeting of our 50th Anniversary Season: "You've come a long way baby"
What was conservation in DC like in 1967 and what will the next 50 years hold for our organization and the conservation field? How has WCG evolved to serve our members? What do our presidents remember about the decades?

The Conservation Department at the Smithsonian American Art Museum (SAAM) is accepting applications for a Lunder Conservation Fellowship in objects conservation.
The Lunder Conservation Fellowship provides the opportunity to further refine examination and treatment skills and to pursue collection-based research. The fellow will gain experience working in a collaborative museum environment, which has access to the resources at the Museum Conservation Institute and the larger Smithsonian research community.

Each year the Hirshhorn Museum Conservation Department implements a maintenance program for the outdoor sculpture collection.  For the 2017 season, the Museum is offering three outdoor sculpture conservation internships
In November, the WCG held their meeting at the Walters Art Museum where the Walter's Painting Conservation Staff –Eric Gordon, Head of the Department, Karen French, Senior Conservator, and Pamela Betts, Associate Conservator –presented their on-going treatment of three Italian wall panels or spalliere.