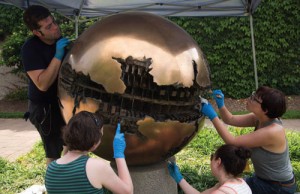 Each year the Hirshhorn Museum Conservation Department implements a maintenance program for the outdoor sculpture collection.  For the 2017 season, the Museum is offering three outdoor sculpture conservation internships, spanning twelve consecutive weeks. The internships begin in late May/early June, depending upon the availability of the successful candidates, with the potential for a modest stipend.
The internships are designed for candidates who are seriously considering a graduate level degree in conservation or who are currently enrolled in an accredited art conservation degree program. These participants will receive a hands-on introduction to outdoor sculpture conservation and opportunities to assist with other conservation related projects related to the care of a contemporary art collection.
The interns will carry out a variety of conservation treatments on the outdoor sculpture collection, document sculpture treatments through treatment reports and digital documentation, learn the properties and application of a range of conservation materials, and utilize specialized tools and analytical equipment in the performance of their daily duties. In addition to treating and examining artwork, the intern will be introduced to the essential routine tasks of a conservator: conducting gallery inspections, monitoring environmental conditions in the collection spaces, and maintaining a clean work space.
The Hirshhorn Museum has more than seventy sculptures situated throughout its sculpture garden and plaza areas and consist of a variety of materials including stone, bronze, iron, aluminum, and steel. The outdoor sculptures receive annual maintenance conservation treatments that may include washing, the application of protective surface coatings, repainting, and structural repairs. This work is performed mostly outdoors, is strenuous, and often requires working in very hot and humid conditions.
APPLICATION PROCESS
Applications must be completed online at https://solaa.si.edu no later than COB Friday, February 17, 2017. Any questions about the internship should be directed to chief conservator Gwynne Ryan at RyanGW@si.edu. For more information about the Museum's collection, please visit the collection.