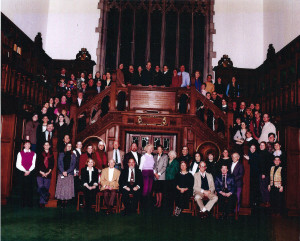 Washington Conservation Guild Presents the Sixth Meeting of our 50th Anniversary Season: "You've come a long way baby"
What was conservation in DC like in 1967 and what will the next 50 years hold for our organization and the conservation field? How has WCG evolved to serve our members? What do our presidents remember about the decades? What would our members like to share about the past? Join us as we celebrate and remember 50 years of WCG with a panel discussion of past WCG Presidents.
5:00pm to 5:50pm: Reception
5:50pm: Recreate 30th Anniversary photo
6:00pm to 7:00pm: Panel discussion
Thursday, February 2, 2017 at Folger Shakespeare Library in the Board Room. Transportation to The Folger Shakespeare Library, 201 E. Capitol Street, SE. The Folger Shakespeare Library is located two blocks east of the Capitol. The nearest Metro stop is Capitol South, on the Blue, Orange, and Silver lines lines.  Limited street parking is available.Please join us to recreate a group photograph from the 30th Anniversary meetingThis event is free to WCG members, $5 for guests & non-members.