Paper Conservation Internship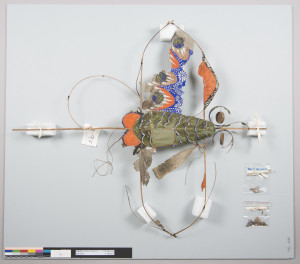 Project Title: Paper Conservation Triage Project:  Chinese Kite Collection, Summer 2017
Location:  Steven F. Udvar-Hazy Center, Emil Buehler Conservation Laboratory, Virginia
Duration:  10 weeks (May to August 2017 time frame)
Amount:  $6000
The NASM Conservation unit is pleased to offer a paper conservation internship to work with conservation staff on a Chinese paper kite collection where the intern will learn conservation techniques and practices related to the treatment of these unique paper objects. The collection originates from the 1876 Centennial Exhibition in Philadelphia and represents the origins of the NASM collection. The kites are primarily composed of Traditional Chinese paper, bamboo, and other organic materials. They are ornately decorated in a calligraphic style and represent various figures, animals and sometimes incorporate animated and audible components.
The intern will assist with the investigative examination, documentation and conservation treatments of these objects under supervision of the staff paper conservator.  The intern will gain experience and be able to utilize analytical equipment in the laboratory to perform material analysis and will assist with other conservation activities related to the project.
With staff approval, the intern may initiate research on a specific material as part of the project, or investigate a treatment methodology in relation to on-going work in the laboratory. This research can take up to 20% of the intern's time. A poster presentation and documentation on the research should be produced by the end of the internship.
Due to the complex nature of the Chinese Kite collection, graduate level paper conservation training is preferred. Skills in materials science, conservation, chemistry, digital photography and technical writing are also preferred. The intern should be self-motivated, willing to work independently, as well as in a team environment and should be capable of managing multiple tasks and deadlines.
The intern will work in the Emil Buehler Conservation Laboratory at the Steven F. Udvar-Hazy Center in Chantilly, Virginia. Intern is strongly encouraged to have a car in order to work at the Udvar-Hazy Center in Chantilly, Virginia. Please use the following link to submit an application through the Smithsonian Online Academic Appointments system (SOLAA): https://solaa.si.edu/ Applications are due February 15, 2017. On your SOLAA application, please select "Paper Conservation" under Projects
For additional information please contact Lisa Young, Objects Conservator, Smithsonian National Air Space Museum at youngla@si.edu