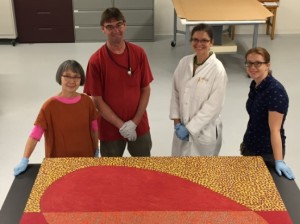 The Washington Conservation Guild Presents the Seventh Meeting of our 50th Anniversary Season Thursday, March 2, 2017 at The United States Holocaust Memorial Museum.
Reception from 5:00pm to 6:00pm
Presentation from 6:00pm to 7:00pm, Lower Level in Classroom A.
*Please plan to arrive by 5:30pm when the building closes to the public*
For a decade, conservators and curators collaborated for the opening of the Visual Art Gallery at NMAAHC this past year, culminating in over 100 painted artworks examined and more than 70 treated.  Come see a history of the collection, the rich teamwork between MCI and NMAAHC, and a selection of studies and treatments.
Presented by Jia-sun Tsang, Senior Paintings Conservator at the Museum Conservation Institute, and Tuliza Fleming, Museum Curator at the National Museum of African American History and Culture
Transportation to The United States Holocaust Memorial Museum: The Museum is located near the National Mall just south of Independence Ave. on 14th St. The nearest Metro stop one block east is Smithsonian on the Blue, Orange, and Silver lines.  Limited street parking is available.
This event is free to WCG members, $5 for guests & non-members.