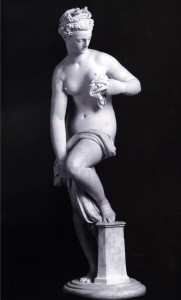 The State Department is looking for a conservator with a broad background who can do some hands on work, but mostly be able to identify conservation needs, write scopes of work, work with conservators around the world to complete conservation work, etc.  We have fine arts, decorative arts, furniture, finishes, and printed materials.  Thus the need for someone with a broad background.
We are a new office and responsible for the stewardship of the Department of States historic buildings and museum collection overseas.  We have approximately 160 historic properties and a collection of 18,500 objects.  I am still in the process of getting the office up and running.  We have a museum curator on board and a collections manager about to start.
Our most expensive piece is a Giambologna statue of Venus in Rome valued at $25,000,000.  We have several pieces of furniture dating to the seventh century, and we have original works of art by Lichtenstein, Warhol, Calder, Wyeth, and Stella to name a few.
Please pass this announcement (see link below) on to anyone who you think might be interested.  Unfortunately it is only advertised for two weeks, so I am trying to get the word out to as many people as possible.  Pay starts at $94,700.