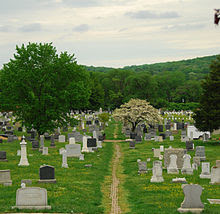 Saturday, April 22, 2017 from 9:00 am until 4:30 pm
Sunday, April 23, 2017 from 9:00 am until 4:30 pm
Congressional Cemetery, collaborating with the D.C. Metro Chapter of the Association for Gravestone Studies, will be hosting Operation Conservation, a workshop to provide educational outreach for those in our area who are interested in cemetery conservation.
Discussion Topics: Tool Selection, Mortar, Stone Infill, Appropriate Landscape, Removal of Iron Pins
Demonstrations & Hands-On Experience: Reset tablets and multi-piece memorials with hand tools/tripod, Reconstruct multi-piece monuments, Drilling stone, Pinning broken tablets, Creating new socket joints, using mechanical lifts.
Our Instructor: Daniel Holcombe is the Grounds and Conservation Manager here at the Congressional Cemetery.  He earned a degree in Historic Preservation from the University of Mary Washington, completed an internship at the Cemetery in the summer of 2012, and has gained knowledge and skills in stone conservation and landscape preservation through his years working here as well as various seminars and trainings.
CONTACT: mpuglisi@congressionalcemetery.org
MORE INFO: http://hccemetery.wixsite.com/conservation
REGISTER: https://operationconservation2017.eventbrite.com