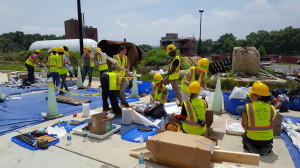 With more frequent severe weather and civil discontentment, the risk to cultural heritage sites is at an all time high.  Having a strategy and tools in place simplifies the response to collection emergencies and ensures an institution will recover swiftly to return to its mission.
Date and Time: May 19th ,  9:00  a.m. to 12:00 p.m.
Location: Dumbarton House, 2715 Q Street NW , Washington, DC  20007
Admission: Free of charge with a 50 seat limitation. Register as soon as possible.
To Register: Linda Gottfried- Lgottfried@aurorastorage.com, 216-544-9552. Register NO LATER than May 12th, 2017
Speakers:

Rebecca Kennedy, Preservation Specialist & Cultural Heritage First Aider, Smithsonian Institution
Jerry L. Foust, Ph.D., Collections & Facilities Manager, Dumbarton House,  NSCDA
Workshop Topics:
-Preparedness, Training and Response
-Revisiting Disaster Plans
-Getting Help
Tours of the Dumbarton House will be available after the seminar.