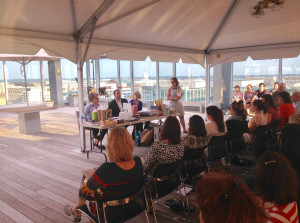 The Washington Conservation Guild Presents the Final Meeting of our 50th Anniversary Season Thursday, May 4, 2017 at The International Brotherhood of Electrical Workers (IBEW)on the rooftop overlooking DC!
Exclusive Reception from 5:00pm to 6:00pm
Exciting Business Meeting and RAFFLE! from 6:00pm to 7:00pm. RSVP to rsvp@washingtonconservationguild.org
Vote for next year's officers, renew your membership, approve last year's minutes, and win fabulous prizes! Raffle donations from membership welcome and appreciated.
Raffle tickets are as follows: $1 each or $5 for 6 tickets. Current members receive 1 free ticket. Membership renewal for the 2017-2018 season receives 1 free ticket.
*** Please RSVP for this meeting to rsvp@washingtonconservationguild.org. You must be on the list to enter the building. ***
IBEW is located at 900 Seventh Street NW, Washington, DC
DC Metro Stop: Gallery Place/Chinatown
This event is free to WCG members, $5 for guests & non-members. For more information about this meeting or WCG, please visit www.washingtonconservationguild.org