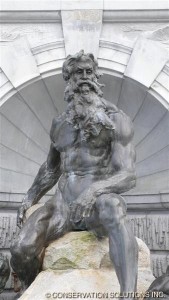 Conservation Solutions Inc. (CSI) is a leading international heritage preservation firm located in the capital cities of Washington, DC and Ottawa, ON with satellite offices throughout North America. CSI and its team are dedicated to the preservation and conservation of the US and Canadian heritage with specific focus on the assessment, testing and treatment of significant works of art, architecture and artifacts.  CSI's extensive project portfolio includes iconic buildings, objects, sculptures and artifacts for a broad range of private, federal and municipal clients across the continent.   Founded in 1999, CSI's premier Conservation team is comprised of highly skilled conservators and trained technicians.  CSI actively provides for the professional growth of its team members, strives for a healthy work life balance for all and offers a competitive compensation and benefits package.
The Assistant Conservator will participate in all aspects of our varied historic preservation and conservation projects.  This position requires experience with historic preservation theory and practice;   experience with project management and the Architecture/Engineering/Construction industry is not required but desirable.   The Assistant Conservator will work closely with a Senior Conservator/Vice President but may also be responsible for monitoring Conservation Technicians and/or subcontractors.
Candidates must have a graduate or college degree in historic preservation, architecture, engineering or a related field.  Other combinations of work experience and education will be considered and a familiarity with performing or directing conservation treatments is advantageous but not required.  Candidates must be able to communicate effectively and resolve conflicts both orally and in writing.  Excellent verbal, phone and written skills are required.
Although the position will be located out of our Washington DC area office, the successful candidate will be expected to travel to various job-sites throughout North America. The candidate must have a valid driver's license, be able to pass government security badging processes, and be legal to work in the US.
Only qualified candidates may submit their resume and cover letter via email to Careers@conservationsolutionsinc.com. No telephone calls please.