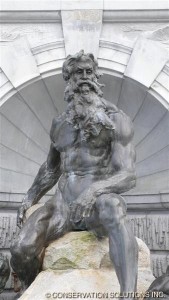 Conservation Solutions, Inc. (conservationsolutionsinc.com) is a full-service conservation and historic preservation firm that works on a variety of objects and structures in the DC area and throughout North America.  The position is based in our Clinton, MD office near Washington, DC, but the employee may be required to travel to our project sites around the country as needed. All work will occur under the direct supervision of a conservator. On-the- job training will be provided as needed. For the right applicant, work on other future projects is a possibility.
Duties and requirements:
1.  Support conservators in all aspects of conservation practice including: Hands-on treatment, documentation, administrative tasks, studio organization, etc.
2.  Prior experience with hand- and power tools in the construction, auto, boat, or aircraft maintenance, metalworking, or masonry fields is required. Any experience with art making or handling, historic preservation or conservation treatments, is advantageous but not a requirement.
3.  Applicant should be comfortable:
-Using hand and power tools
-Working outside
-Being on one's feet for extended periods
-Working at heights on scaffolding or aerial lift
-Working with chemicals
-Lifting 75 lbs.
4.  Applicant must:
-Be a US Citizen or legally able to work in the United States
-Be able to pass a security background check
-Possess a valid US driver's license
-Must provide own transportation in the greater DC-metro region
-Be hard-working, reliable and detail oriented
-Be capable of working under direction on fragile and delicate items
-Be able to follow instructions
-Maintain a positive attitude
-Adhere to site safety protocols at all times
5.  Compensation will be $15-$25/hour commensurate with experience
6.  Normal office hours are Monday-Friday, 7:30AM-4:30PM.
7. Selected applicants may be working on a high-profile project in Washington, DC. Exact working hours and number of hours per week will vary; early mornings, weekend, and overnight work will periodically be required.  Generally, work is 40 hours per week, Monday-Friday.  Shifts are typically from 4AM-1PM, 6AM-3PM, or 12PM-9PM.   The site is Metro accessible.
Send resume and cover letter to careers@conservationsolutionsinc.com.  Please indicate availability to start.