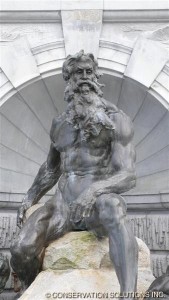 Conservation Solutions Inc. (CSI) is a leading international heritage preservation firm located in the capital cities of Washington, DC and Ottawa, ON with satellite offices throughout North America. CSI and its team are dedicated to the preservation and conservation of the US and Canadian heritage with specific focus on the assessment, testing and treatment of significant works of art, architecture and artifacts.  CSI's extensive project portfolio includes iconic buildings, objects, sculptures and artifacts for a broad range of private, federal and municipal clients across the continent.   Founded in 1999, CSI's premier Conservation team is comprised of highly skilled conservators and trained technicians.  CSI actively provides for the professional growth of its team members, strives for a healthy work life balance for all and offers a competitive compensation and benefits package.
We have an immediate opening for a career-oriented, full time Senior Conservator/Project Manager to join our exceptional team based out of our Washington, DC area studio.  The Senior Conservator must provide leadership to project teams and our clients, as well as expertise for all technical aspects relating to conservation work.  S/he will manage and develop client relationships and represent CSI at industry events through technical presentations and workshops which may also be published.
The Senior Conservator will bear responsibility for all project management aspects of the delivery of historic preservation design and implementation services by a team of conservation professionals under the guidance and direction of a VP Operations.  Responsibilities include scope, schedule, & budget development and management, staffing, directing, and controlling the delivery of assignments.  S/he will supervise subordinate staff and sub-contractors assigned to their projects and ensure strict adherence to accepted professional standards and ensure Quality Control throughout the project.
Our ideal candidate will posses an extensive knowledge of conservation and restoration principals, critical thinking abilities and a thorough understanding of construction project management techniques.  A positive, motivational leadership style will be key in leading and directing a group of professionals in a challenging and competitive business environment.  Candidates must be able to communicate effectively and resolve conflicts both orally and in writing.  Excellent verbal, phone and written skills are required. Previous experience with government contracts and projects is a plus.
The preferred candidate will have at least seven to ten years of experience with increasing responsibility at a senior conservator/project management level, as well as an appropriate professional designation.    An advanced University degree in historic preservation, objects conservation or architecture is required, although candidates with an architecture or engineering degree with a focus on historic preservation will be considered.
This position will be based in our Washington DC area studio with expected travel throughout North America. The candidate must have a valid driver's license and passport, be able to pass government security badging and clearance processes, and be legal to work in the US.
Only qualified candidates may submit their resume and cover letter via email to Careers@conservationsolutionsinc.com. No telephone calls please.