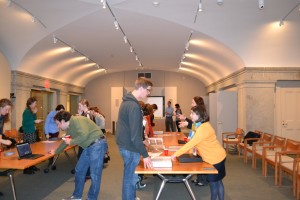 Wednesday, November 15, 2017
4:30- 6:30 PM
We've put together a fantastic panel of Washington-area conservators in varying stages of their careers and working in different contexts to speak about their current work and career paths. Portfolio viewing and a reception with light refreshments will follow.
Presenters include:
· Tatiana Ausema, Senior Program Officer in the Division of Preservation and Access at the National Endowment for the Humanities
· Sarah Stauderman, Director of Collections at the Hirshhorn Museum and Sculpture Garden
· Im Chan, paper conservator in private practice
· Megan Dorsey-Whitfield, Mellon Fellow in objects conservation at the National Museum of the American Indian
This is a great opportunity for pre-programmers, interns, fellows, and emerging conservators to learn more about graduate education in art conservation, network with peers, ask questions, and consider the many ways they can develop and use their conservation skills.
The George Washington University Museum / The Textile Museum, 701 21st Street, NW, Washington, DC 20052. The program room is behind the reception desk through the glass doors.
This event is made possible through the generous co-sponsorship of the George Washington University Museum / The Textile Museum.