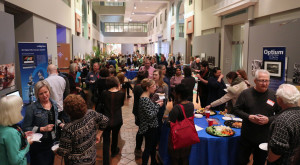 Thursday, January 4, 2018
5:30pm to 7:30pm
The S. Dillon Ripley Center, Smithsonian Institution, 1100 Jefferson Dr., Washington, DC 20560
Nearest Metro stops: Smithsonian and L'Enfant Plaza
Reception with Vendors from 5:30pm to 6:30pm
Presentations from 6:30pm to 7:30pm
Treatment Ring
ŸŸŸJanelle Batkin-Hall; Live and Let Dye: Fabrication and Dye Characterization of Roman-Period Dolls from Karanis, Egypt
Meghann Kozak, Diana Gabler, Megan Doxsey-Whitfield; The Collaborative Process – Realizing the Conservation Treatments of Two Lakota Headdresses at the National Museum of the American Indian
Nora Bloch; The Use of Gellan Gum with Solvent to Reduce the Appearance of Tidelines on Leather
Collaborating and Connecting Ring
Dawn Wallace; Don't Say That! Say This. Media Prep for the Ruby Slippers Kickstarter
Ariel O'Connor; Crime Scene Conservation: Preserving the Nutshell Studies of Unexplained Death.
Francis Lukezic; The Wild West Comes to Southern Maryland: The conservation of 'tin' cans with paper labels from Deadwood, South Dakota
Collections Emergency Response Ring
Nora Lockshin, Vicki Lee, Beatriz Centeno-Pineiro, Diana Pardue; And don't forget your badge this time! Lessons from the field with FEMA Heritage Emergency National Task Force
Jessica Unger; The New Normal of Climate Change: What You Can Do to Prepare
Katie Wagner; Preparedness and Response in Collections Emergencies (PRICE)
Our Vendors/Sponsors include: Aurora Storage, Gaylord, Hartmann, Hirox, Hollinger/Metal Edge, Image Science Associates, Leica Micro-Systems, Rose Microsolutions, Sirma Group, Talas, Tru-Vue, University Products, VariGuard and AIC.
We would like to thank Hartmann Fine Art Conservation Services for helping to defray the cost of refreshments for this event!
This event is free to WCG members, $5 for guests & non-members. Memberships are $35 for professionals and $25 for students. WCG just celebrated 50 years of supporting and promoting art conservation in both the DC metro area and worldwide. Membership fees go toward supporting our next 50 years of programming and advocacy.