The Washington Conservation Guild Presents the Sixth Meeting of the 2017/2018 Season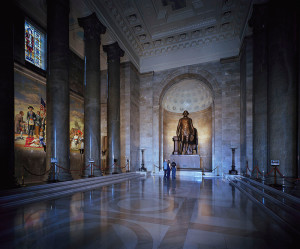 Thursday, February 1, 2018
at The George Washington Masonic National Memorial
Join us! Reception and tours from 5:00pm to 6:00pm,
Presentation from 6:00pm to 7:00p
The George Washington Masonic National Memorial and Tours
Tours will take the group through the major exhibitions, collections storage, the library, and to the top of the Memorial for the best view in Northern Virginia. Following will be a presentation on the Memorial, its collections, and current preservation projects.
Presented by
Mark Tabbert Director of Collections at George Washington Masonic National Memorial,
David Olin of Olin Conservation, Inc., and Timothy Winkle of Alexandria-Washington Lodge No.22
Transportation to The George Washington Masonic National Memorial
101 Callahan Drive, Alexandria, Virginia 22301
The Memorial is located near the King St. Metro in Alexandria, Va, on the Blue and Yellow lines.  Exit the station and head west on King St., under the bridge, and the Memorial will be at the top of the hill.  Please enter at the north entrance with the handicap ramp. A parking lot is available at the top of the hill
This event is free to WCG members, $5 for guests & non-members.
Memberships are $35 for professionals and $25 for students.
WCG just celebrated 50 years of supporting and promoting art conservation in both the DC metro area and worldwide.
Membership fees go toward supporting our next 50 years of programming and advocacy
For more information about this meeting or WCG, please visit www.washingtonconservationguild.org