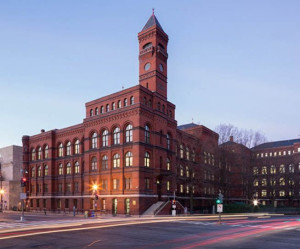 Please join APT DC and Grunley Construction Company for a tour of the exterior restoration of the Sidney Yates Building!
The Building: Built between 1878-1880, the Sidney Yates Building is a grand example of Richardsonian Romanesque design – a common aesthetic for the late 19th century, but uncommon for its location and Federal use.
Named after the Honorable Sidney R. Yates, a member of the House Appropriations Committee for the Department of the Interior and other agencies for many years, the clock tower and original structure began construction in 1878. Completed in 1881, the building was originally used by the Bureau of Engraving and Printing.
The building has undergone several expansions, renovations, and restorations in its lifetime, and it currently houses the United States Forestry Service.
The Restoration: The scope of work of the most recent exterior restoration included re-pointing and masonry repairs, casting replicated brick units, installing metal flashing on masonry bands, window conservation with localized repairs and metal capping of transom bars, and perimeter gutter replacement. Representatives from Grunley will lead the tour and discuss the various restoration techniques and materials used.
For more information on the project, please visit http://www.grunley.com/market-sectors/military-government/project-details/952. AIA credits for this event have been requested, but they have not yet been confirmed.
Date and Time: Saturday, January 20, 2018, 10:00 AM -12:00 PM
Location: SW Corner of 14th Street and Independence Ave NW, Washington, DC
Registration:
Member: $0.00
Member Ticket and AIA CEU Credit: $5.00
Non-Member: $15.00
Non-Member Ticket and AIA CEU Credit: $20.00
REGISTER
Save the Date for Upcoming Events!
End of January, TBD: Preserving Our Nation's Monuments Lecture and Discussion Event (Washington, D.C.)
February 24, 10AM – 12PM: Digital Fabrication for Preservation Workshop and Tour at OpenWorks (Baltimore, MD)
March 3, 10AM – 12PM: Pre-Construction Tour of Arlington House (Arlington, VA)
More info and registration opportunities to come!
Please contact events@aptdc.org if you have any questions.