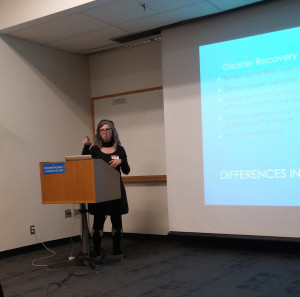 Speaker: Nora Lockshin, with Vicky Lee, Elizabeth Milnarik, Jennifer Groman in Q&A.
Authors: Nora Lockshin, Vicky Lee, Beatriz Centeno-Pineiro, Diana Pardue
Thursday, January 4, 2018
Collections Emergency Response Ring
When a disaster strikes are you ready to help? Nora Lockshin addresses ways in which FEMA Heritage Emergency National Task Force is prepared to respond and provided helpful insights and tips she and her colleagues have learned in the field, so that you can be prepared. Federally declared disaster zones operate with multiple agencies working together in a Joint Field Office, leading operations with hundreds of volunteer and assigned professionals. In these environments it is important to "know your NIMS", specifically an understanding of principles of the National Incident Management System (NIMS), Incident Command System (ICS), and National Response Framework (NRF). (Check out the FATT list of FEMA acronyms and abbreviations and terms- https://www.hsdl.org/?abstract&did=2277 . Short introductory courses are available through the FEMA Emergency Management Institute Independent Study program, free and online. https://training.fema.gov/is/.
There are often various levels of security within a disaster zone; as such, high security areas require federal badges. To be admitted without escort into temporary federal facilities, insure that you bring your federal credentials and mission paperwork with you. And don't forget your badge! If your badge differs from the personal identity verification or PIV/IDMS type https://www.fema.gov/pdf/emergency/nims/nims_cred_guidelines_report.pdf, such as Smithsonian's credential, you may require escort from your FEMA point of contact anyway due to lack of recognition. When considering responding to a disaster situation it is important to contemplate your wellbeing, your health and medical situation, if you can handle long term stress, potential personal expense if your agency does not have a travel medicine program and your need to get booster shots or immunizations, and assembling the necessary safety gear. Financial considerations may be a main concern for supervisors of staff willing to serve. Under a FEMA Emergency Support Function Mission Assignment, FEMA will reimburse federal agencies for overtime where the agency agrees to support the base salary. In addition, lodging may be arranged and/or covered by FEMA as a direct cost, when possible.
Lockshin stressed the importance of flexibility in the field; you may need to be a follower one day and a leader the next, dietary/religious accommodations may not always be possible, cell/internet use may not be available, housing accommodations and meals or mealtimes can vary drastically, but certainly must meet federal standards. Know your limitations and if a situation is safe for you. In the field, it is crucial to always be aware and work with a buddy system. Work in post-disaster areas is stressful, and may present a potentially dangerous and highly emotional environment. Preparation and communication with your team, points of contact, and stakeholders, and the ability to be mature and flexible in your work is key. With these things to consider, responding to a disaster is a highly rewarding experience that allows you to help those in need, while experiencing new places and cultures, working with amazing people, and pushing your boundaries.
Summary by
Stephanie Cashman, Graduate Conservation Intern at the National Museum of the American Indian