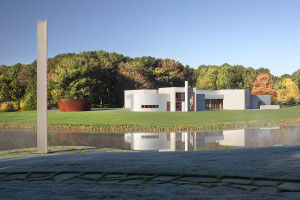 Position Overview: The internship will provide a unique opportunity to work with Glenstone's superlative collection of post-World War II artworks. A major focus of the internship will be assisting with the movement of the collection into the Pavilions, Glenstone's second museum building, which measures 170,000 square feet and was designed by Thomas Phifer and Partners. In addition, the intern will have the opportunity to maintain and treat Glenstone's outdoor sculpture collection, as well as contribute to the Museum's preventive conservation activities. Applicants with experience in time-based media would have the opportunity to document video and sound installations, as well as contribute to ongoing migration projects. Due to the distinct challenges posed by contemporary art, Glenstone's conservation program is collaborative in nature. As such, there will be occasions to work with other conservators, museum professionals, galleries, artists, and their studios or foundations.
An Introduction to Glenstone Museum: Glenstone is an art museum located on more than 200 acres of rolling hills and unspoiled woodland in Potomac, Maryland. Conceived by founders Mitchell and Emily Rales on their deeply held belief that art is essential to life, it has already become one of the finest collections of modern and contemporary art in the world. In addition to the current museum, when its new museum building opens to the public in 2018, Glenstone will become the largest private museum in America welcoming 100,000 visitors every year free of charge. By thoughtfully integrating the power of art, the energy of architecture and the serenity of landscape, Glenstone is both a distinctive idea and a unique place.
Required Skills & Experience: Candidates should be enrolled in a recognized conservation training program or have equivalent training. Preference will be given to candidates with experience in the following areas:
• objects/sculpture
• time-based media
• modern and contemporary art
• preventive conservation
Strong problem-solving and communication skills are essential.
Salary & Benefits: The internship includes a stipend of $20/hour. The internship will begin in the spring/summer of 2018 and run for a minimum of 8 weeks. The start date is flexible and the internship may extend into the fall if the applicant is available.
To promote collaboration and show appreciation to associates, Glenstone provides a weekly staff lunch, on-site health and wellness classes and volunteer opportunities.
Application Process: Submit a cover letter, resume, and salary requirements to our Glenstone Jobs Portal:  https://goo.gl/ckKeoQ
Date Posted: 1/22/2018
We are an equal opportunity employer. All qualified applicants will receive consideration for employment without regard to race, color, religion, gender, national origin, disability status, protected veteran status or any other characteristic protected by law.