Fellowships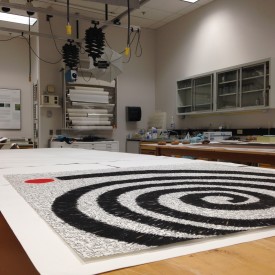 The Smithsonian's National Museum of African Art is the only facility in the United States dedicated exclusively to the exhibition and preservation of Africa's traditional and contemporary arts.  With the generous support of the Andrew W. Mellon Foundation, the Museum is pleased to offer a post-graduate fellowship in conservation

The Conservation Department of the Colonial Williamsburg Foundation seeks applications for post-graduate fellowships in archaeological materials, objects, paintings, textiles, or wooden artifacts conservation to help support Colonial Williamsburg's preservation mission.
Andrew W. Mellon Advanced Training Fellowships in Ethnographic and Archaeological Object and Textile Conservation
Smithsonian Institution, National Museum of the American Indian, Washington, DC

Objects Conservation at the Smithsonian, National Air and Space Museum
Fellowship appointments are for 1 year with the potential for a 1 year renewal.  They commence in the fall and include a $37,000 stipend, with additional funds up to $5,000 for medical insurance, relocation, research related expenses, and conference registration. The fellowships take place at the Emil Buehler Conservation Laboratory in the Steven F.

Each year, WCG's Sidney S. Williston Memorial Fund for Interns and Fellows provides up to five interns/fellows with free membership in the Washington Conservation Guild.

The Conservation Department at the Smithsonian American Art Museum (SAAM) is accepting applications for a Lunder Conservation Fellowship in objects conservation.
The Lunder Conservation Fellowship provides the opportunity to further refine examination and treatment skills and to pursue collection-based research. The fellow will gain experience working in a collaborative museum environment, which has access to the resources at the Museum Conservation Institute and the larger Smithsonian research community.

The Smithsonian's National Museum of African Art is the only facility in the United States dedicated exclusively to the exhibition and preservation of Africa's traditional and contemporary arts.  With the generous support of the Andrew W. Mellon Foundation, the Museum is pleased to offer a post-graduate fellowship in conservation

The Conservation Division of the Library of Congress is now accepting applications for the 2017-2018 Harper-Inglis Post-Graduate Conservation Fellowship in the Conservation Division, Library of Congress, Washington, DC.

The Smithsonian's Office of Fellowships and Internships has announced one-year fellowships for recent graduates of masters programs in art and archaeological conservation (or the equivalent) or conservation scientists, including those at the postdoctoral level, to conduct research and gain further training in Smithsonian centers for the conservation and research of museum collections.
The conservation division of the National Gallery of Art is seeking applications for fellowship positions in 3 disciplines: paper conservation, objects conservation, and paintings conservation.  The fellowships are supported by the Andrew W. Mellon Foundation and the Charles E. Culpeper Foundation.