Internships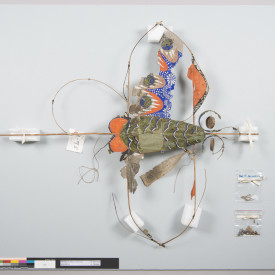 Project Title: Paper Conservation Triage Project:  Chinese Kite Collection, Summer 2017
Location:  Steven F. Udvar-Hazy Center, Emil Buehler Conservation Laboratory, Virginia
Duration:  10 weeks (May to August 2017 time frame)
Amount:  $6000
The NASM Conservation unit is pleased to offer a paper conservation internship to work with conservation staff on a Chinese paper kite collection where the intern will learn conservation techniques and practices related to the treatment of these unique paper objects. 

Each year the Hirshhorn Museum Conservation Department implements a maintenance program for the outdoor sculpture collection.  For the 2017 season, the Museum is offering three outdoor sculpture conservation internships

The Library of Congress welcomes applications for its 2017-2018 internships in book, paper, and photograph conservation. The Library will accept one student in each specialty for the academic year to fulfill the final-year internship requirement of the U.S. conservation graduate schools.

Through the generosity of the Maryland Historical Trust's Heritage Preservation Fund, a paid internship project is available this fall/winter at the Maryland Archaeological Conservation Laboratory.  The position is open to current and recent graduates of a recognized Conservation graduate program.  

George Washington's Mount Vernon is offering a paid summer internship in the conservation of objects in the fine and decorative arts collection for the summer of 2016. 

The Smithsonian's Museum Conservation Institute (MCI) is offering short-term opportunities to work on research and conservation projects with staff members.  The internships are intended mainly for the summer of 2016, but consideration will be given to projects at other times during the year.

The Smithsonian Museum Conservation Institute in conjunction with the NSF REU Sites Program is offering short-term opportunities for undergraduates to work on research projects with staff members of its technical studies and research group, contingent on continued funding.
The National Museum of the American Indian (NMAI) is offering up to two 10-week (June 6, 2016 – August 12, 2016) internships in ethnographic artifact and textile conservation funded by the Andrew W. Mellon Foundation.
Individuals interested in entering conservation graduate program specializing in Native American ethnographic and archaeological objects: organic and inorganic materials.

The Library of Congress is proud to announce that it is accepting applications for its competitive 2016 Junior Fellows Summer Intern Program http://www.loc.gov/hr/jrfellows/about.html from now through Friday, January 22, 2016.