Jobs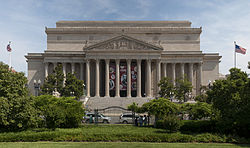 A Combined Synopsis Solicitation has been posted on Federal Business Opportunities for a part-time contract paper conservator at Archives I.

The Conservation Department of the Colonial Williamsburg Foundation seeks applications for post-graduate fellowships in archaeological materials, objects, paintings, textiles, or wooden artifacts conservation to help support Colonial Williamsburg's preservation mission.
Six-Month Pre-Graduate Program Conservation Internship
Smithsonian Institution, National Museum of the American Indian
Andrew W. Mellon Advanced Training Fellowships in Ethnographic and Archaeological Object and Textile Conservation
Smithsonian Institution, National Museum of the American Indian, Washington, DC

Conservator IS-1001-11
Smithsonian Institution, National Air and Space Museum
Open & closing dates:  11/06/2017 to 11/27/2017
Salary:  $66,510 to $86,460 per year
The Smithsonian's National Museum of African Art is the only facility in the United States dedicated exclusively to the exhibition and preservation of Africa's traditional and contemporary arts.  With the generous support of the Andrew W. Mellon Foundation, the Museum is pleased to offer a post-graduate fellowship in conservation that provides the opportunity to further refine examination and treatment skills, and to pursue collection-based research.

The Library of Congress is accepting applications for the position (2 vacancies) of Collection Care Technician in the Conservation Division Collection Stabilization Section.

The National Air and Space Museum is requesting quotes (RFQ) for a Collections Management Contractor to start January 2nd 2018.  The principal duty of the contractor will be to conduct conservation surveys of the collection.

Conservation Solutions, Inc. (conservationsolutionsinc.com) is a full-service conservation and historic preservation firm that works on a variety of objects and structures in the DC area and throughout North America.

Conservation Solutions Inc. (CSI) is a leading international heritage preservation firm located in the capital cities of Washington, DC and Ottawa, ON with satellite offices throughout North America.