News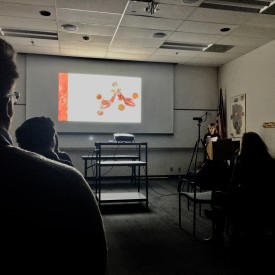 In the Collaborating and Connecting Ring, Dawn Wallace, Objects Conservator, National Museum of American History, presented on her work with the ruby slippers. In the 1939 classic film, The Wizard of Oz, Dorothy Gale played by Judy Garland wore the iconic ruby slippers down the yellow brick road.
In the Treatment Ring at the annual WCG Three Ring Circus Event, Janelle Batkin-Hall, Mellon Objects Conservation Fellow at the National Museum of African Art, spoke about her research. Batkin-Hall presented a technical study on the fabric and dye characterization of Roman-Period Dolls from Karanis, Egypt. Eighteen dolls were surveyed: sixteen from a site in Karanis Egypt and two purchased between the years 1924 and 1935 (this date range is for the excavations, not the purchase dates).

Thursday, March 1, 2018 at the Walters Art Museum.
Reception from 5:00pm to 6:00pm in the Parlor at 5 West Mount Vernon Street
Presentations from 6:00pm to 7:00pm in the Graham Auditorium at 600 N. Charles Street

Wednesday, February 14, 1:30 pm – Lecture at the Library of Congress (Madison Building, Pickford Theater on the Third Floor). Speaker: W. Brent Seales, Professor and Chairman of the Department of Computer Science and Director of the Center for Visualization and Virtual Environments, University of Kentucky.

Jessica Unger, the Emergency Programs Coordinator at Foundation of the American Institute for the Conservation of Historic & Artistic Works (FAIC), presented "The "New Normal" of Climate Change: What You Can Do to Prepare."

Speaker/Author: Katie Wagner
Thursday, January 4, 2018
Collections Emergency Response Ring
Speaker: Nora Lockshin, with Vicky Lee, Elizabeth Milnarik, Jennifer Groman in Q&A.
Authors: Nora Lockshin, Vicky Lee, Beatriz Centeno-Pineiro, Diana Pardue
Thursday, January 4, 2018
Collections Emergency Response Ring

Please join APT DC and Grunley Construction Company for a tour of the exterior restoration of the Sidney Yates Building!

The Washington Conservation Guild Presents the Sixth Meeting of the 2017/2018 Season
Thursday, February 1, 2018
at The George Washington Masonic National Memorial
Join us! Reception and tours from 5:00pm to 6:00pm,
Presentation from 6:00pm to 7:00p
The George Washington Masonic National Memorial and Tours
Tours will take the group through the major exhibitions, collections storage, the library, and to the top of the Memorial for the best view in Northern Virginia.