News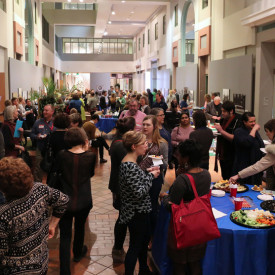 Thursday, January 4, 2018
5:30pm to 7:30pm
The S. Dillon Ripley Center, Smithsonian Institution, 1100 Jefferson Dr., Washington, DC 20560

Please join us Thursday, December 7, 2017 in the Great Hall of the Folger Shakespeare Library.
Reception from 5:00pm to 6:00pm
Presentation from 6:00pm to 7:00pm
rsvp@washingtonconservationguild.org

Lecture: The Provenance of Printing in Afghanistan
Thursday, November 16, 11:00 am
Jefferson Building, Whittall Pavilion on the Ground Floor
The Provenance of Printing in Afghanistan
Speaker: Elham Bakhtary, 2016-2017 CLIR/Mellon Fellow, Library of Congress Preservation Research and Testing Division.

Please join APT DC, EverGreene Architectural Arts,  and Gilbane Building Company for a hard hat tour of the ongoing renovation project at Baltimore's Central Library and State Library Resource Center!
Date: Saturday, November 04, 2017, 10:00 AM -12:00 PM
Location: 400 Cathedral Street, Baltimore, Maryland 21201

The Washington Conservation Guild's celebrated 3-Ring Circus is approaching on Thursday, January 4, 2018. It will be held at 5:30 at the Ripley Center of the Smithsonian Institution in Washington, DC.
This year we welcome proposals from our membership for talks on any conservation-related topics.

 Thursday, November 2, 2017 
at the Wyatt R. and Susan N. Haskell Center
of the Folger Shakespeare Library
Reception from 5:00pm to 6:00pm | Presentation from 6:00pm to 7:00pm
"Criteria for Selecting an Appropriate Light Source for Conservation Activities"
 Traditionally, conservators prefer northern daylight for illuminating treatment. However, it can be necessary to use supplementary and alternative sources of illumination.

The  Washington Conservation Guild, the Potomac Section of the American Industrial Hygiene Association and the Smithsonian Institution's Office of Safety, Health and Environmental Management with the Lunder Conservation Center present the 2nd Annual Safety and Cultural Heritage Summit: Preserving Our Heritage and Protecting Our Health. Co-presentations by IH/Safety and Conservation/Collection Care professionals build on last year's theme: Control of Health and Safety Hazards in Museums, Historic Sites, Conservation Treatment and Collection Care.

Thursday, October 5th 2017 at The David and Fela Shapell Family Collections, Conservation and Research Center of The United States Holocaust Memorial Museum.
Reception: 4:30pm to 5:30pm
Brief Presentation and Tour of Facilities: 5:30pm to 6:30pm