Angels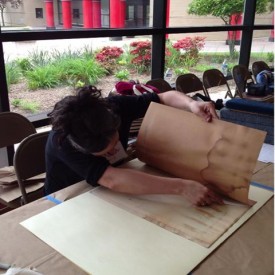 Thank you to everyone who participated in the annual Angels Day yesterday– it was a great day, and collaborating with the AAM Reinforcement crew was awesome. Some preliminary numbers: 100 works of art were unframed and rehoused; 150 objects were photo-documented; condition-assessed, and rehoused; 40+ books were rehoused in four flap enclosures; 500 negatives were rehoused; 200 photographs were rehoused.

The WCG Angels Project 2013- Saturday, May 18th – Baltimore, Maryland!
Space is limited- sign up early!
WCG is pleased to announce that the Washington Conservation Guild Angels project will partner with the Registrars Committee of the American