Interns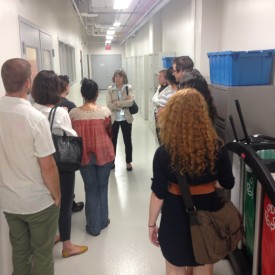 Fall is almost here and with that usually comes a new crop of interns and fellows. The Washington Conservation Guild encourages its emerging professionals to participate in the many activities it has to offer in addition to its monthly meetings including tours of area conservation laboratories, happy hours with ECPN, and our Portfolio Day. WCG also supports its interns through the Sidney Williston Fund every year.
On Wednesday, July 23 WCG will host a tour for Interns & Fellows at the National Museum of Natural History (NMNH) conservation facilities at the Museum Support Center (MSC) in Suitland, Maryland. For those traveling by shuttle, we will meet at 12:50PM in front of the NMNH mall location, at the Madison Dr. entrance facing the mall.
This year the Washington Conservation Guild will be hosting its first Portfolio Day.

The WCG Interns and Fellows were joined by several other WCG professional members for a guided tour of conservation work in Congressional Cemetery on October 18. Howard Wellman lead the tour

The weather is supposed to be lovely, so please join us at the gatehouse to the cemetery at 4:30pm.  A walking tour of the cemetery and the current conservation work underway will be conducted by Howard Wellman.
With the changing of the seasons usually comes a change in internships. Many  who were here in June, July, and August have already moved to other locations, on but more have arrived in the DC area. This summer the WCG interns & fellows visited the conservation labs of the United States Holocaust Memorial Museum and the The Phillips Collection with accompanying social events.
It's that time of the year again . . . to nominate your favorite interns for the annual WCG Wiliston awards!
The Sidney Williston Fund will provide five interns/fellows each year with membership in the Washington Conservation Guild. 
Summer is officially here, and so are your summer interns!
The WCG intern coordinators are currently working on arranging lab visits, happy hours, and various meet-ups for your interns, however we need their contact information so we can invite them along! If you wouldn't mind, we'd really appreciate it if you'd send us your interns' email addresses so we can make sure they are invited to all of our summer meet-ups.  

Winners of this year's Williston Awards were announced at the September Intern Meeting. This year, due to the generosity of several sponsors, we were able to present three additional awards.