Meetings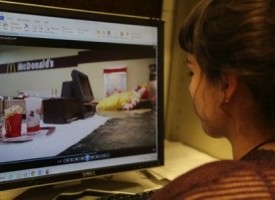 Washington Conservation Guild Presents
the Eighth Meeting of our 50th Anniversary Season
Thursday, April 6, 2017at the National Postal Museum
Join us this 50th Anniversary season for the ever popular Intern Talks held in the Discovery Center
Reception: 5:00pm to 6:00pm and Presentations: 6:00pm to 7:00pm
Please be prepared to go through security to enter the museum.

The Washington Conservation Guild Presents the Seventh Meeting of our 50th Anniversary Season Thursday, March 2, 2017 at The United States Holocaust Memorial Museum.
Reception from 5:00pm to 6:00pm
Presentation from 6:00pm to 7:00pm, Lower Level in Classroom A.
*Please plan to arrive by 5:30pm when the building closes to the public*

Washington Conservation Guild Presents the Sixth Meeting of our 50th Anniversary Season: "You've come a long way baby"
What was conservation in DC like in 1967 and what will the next 50 years hold for our organization and the conservation field? How has WCG evolved to serve our members? What do our presidents remember about the decades?
In November, the WCG held their meeting at the Walters Art Museum where the Walter's Painting Conservation Staff –Eric Gordon, Head of the Department, Karen French, Senior Conservator, and Pamela Betts, Associate Conservator –presented their on-going treatment of three Italian wall panels or spalliere.

Art Preservation Services will be introducing a unique work light designed specifically for the conservation field at the annual Three-Ring reception.
The Connolux Conservation Task Lamp provides
Optimum color rendering properties
Extremely high light ouput
Multiple options for light distribution
Energy efficient design with a low heat ouput
Lightweight and compact design

We continue our 50TH ANNIVERSARY CELEBRATION by honoring three individuals who were influential in the Guild's formation: Dr. S. Dillon Ripley, Rutherford J. Gettens and Robert M. Organ.
Thursday, January 5, 2017
5:30pm to 7:30pm

We continue our 50th Anniversary Celebration with a party from 5:00pm to 7:30pm Thursday, December 1, 2016 at The Hill Center with The Gunston Manor Band!
As part of the WCG 50th anniversary celebrations, the Washington Conservation Guild, Potomac Section of the American Industrial Hygiene Association, and the Smithsonian Institution's Office of Safety, Health & Environmental Management presented a Professional Development Seminar, "Control of Health and Safety Hazards in Museums and Collection Care" on Tuesday, November 8, at the Smithsonian American Art Museum.

The Italian Cultural Institute presents a series of lectures, which will take place on November 10 at 7 pm at the Italian Embassy. More information regarding the lecture and RSVP'ing can be found here.

The Washington Conservation Guild presents the THIRD Meeting of the 2016/2017 Season
Thursday, November 3, 2016 at The Walters Art Museum
We continue our 50th Anniversary Celebration with a reception from 5:00 to 6:00 and the following talk and tour from 6:00 to 7:00
"The Face that Launched Ten Thousand Conservation Hours: Investigation & Treatment of the Walters 'Helen of Troy' Spalliere Panel Series"