Meetings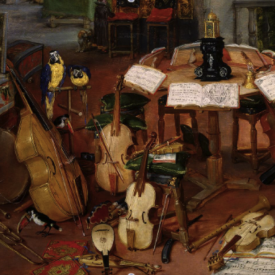 The Italian Cultural Institute presents a series of lectures, which will take place on November 10 at 7 pm at the Italian Embassy. More information regarding the lecture and RSVP'ing can be found here.

The Washington Conservation Guild presents the THIRD Meeting of the 2016/2017 Season
Thursday, November 3, 2016 at The Walters Art Museum
We continue our 50th Anniversary Celebration with a reception from 5:00 to 6:00 and the following talk and tour from 6:00 to 7:00
"The Face that Launched Ten Thousand Conservation Hours: Investigation & Treatment of the Walters 'Helen of Troy' Spalliere Panel Series"
As part of the WCG 50th anniversary celebrations, the Washington Conservation Guild, Potomac Section of the American Industrial Hygiene Association, and the Smithsonian Institution's Office of Safety, Health & Environmental Management Present a Professional Development Seminar, "Control of Health and Safety Hazards in Museums and Collection Care." Here is the schedule of speakers.
Tuesday, November 8, 2016
9am – 5pm, (5-7 pm: Stay to enjoy the Galleries + Social Time in the Courtyard!)
Cost is $60 including lunch
Smithsonian American Art Museum: McEvoy Auditorium
The Washington Conservation Guild's 50th Anniversary Season is in progress, and the 3-Ring Circus is approaching quickly. It will be held on Thursday January 5 at 5:30 at the Ripley Center of the Smithsonian Institution in Washington, DC. This year, we are requesting proposals for talks from our membership. In celebration of our 50th year, we are naming our three rings after our three founders: Gettens, Organ and Ripley.

The Washington Conservation Guild presents the second meeting of the 2016/2017 season
Please join us at ARTEX Fine Art Services in Landover, MD
on Thursday, October 6, 2016
for a talk and tours of ARTEX Facilities and Conservation Lab:
Mountmaking for Conservation with Consideration for Long-Term Display and Storage

The Library of Congress Preservation Research and Testing Division is pleased to announce a lecture given by Verena Lepper (Curator for Egyptian and Oriental Papyri, Ägyptisches Museum und Papyrussammlung, Berlin) and Heinz-Eberhard Mahnke (Honorary Professor, Physics Department, Freie Universität Berlin), on "Virtual reading of papyri within the Elephantine Project" Monday, September 12, from 1:00 – 2:00 pm
Please join us Thursday, September 8, 2016. We have many exciting events planned for the year ahead and are kicking it off with an evening at SHAKE SHACK! The celebration will be held from 5:00 p.m. – 7:00 p.m. at the Union Station Shake Shack.

The legendary Polynesian voyaging canoes Hokule'a and Hikianalia are sailing across Earth's oceans to join and grow the global movement toward a more sustainable world. Using traditional wayfinding navigation, the Malama Honua Worldwide Voyage has been hailed as an international model for cultural revitalization and education.

Christina St. Germain gave the first talk in ring 3, which was entitled: An Investigation into the Historic Painted Finishes of the Senate Reception Room (S-213), U.S. Capitol, Washington, DC: The Ceiling, Enframements, and North Lunette.