News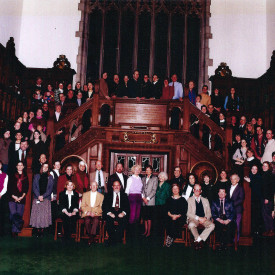 Washington Conservation Guild Presents the Sixth Meeting of our 50th Anniversary Season: "You've come a long way baby"
What was conservation in DC like in 1967 and what will the next 50 years hold for our organization and the conservation field? How has WCG evolved to serve our members? What do our presidents remember about the decades?
In November, the WCG held their meeting at the Walters Art Museum where the Walter's Painting Conservation Staff –Eric Gordon, Head of the Department, Karen French, Senior Conservator, and Pamela Betts, Associate Conservator –presented their on-going treatment of three Italian wall panels or spalliere.

Exploring the Conservation of Folk Art
Thursday, January 26, 2017 at 4 p.m.
Shelburne Museum Objects Conservator, Nancie Ravenel, will present a lecture investigating the conservation of American folk art. How is folk art conservation similar and different from other conservation efforts, if at all?
Location: MacMillan Education Center
Smithsonian American Art Museum
8th & F St.

Art Preservation Services will be introducing a unique work light designed specifically for the conservation field at the annual Three-Ring reception.
The Connolux Conservation Task Lamp provides
Optimum color rendering properties
Extremely high light ouput
Multiple options for light distribution
Energy efficient design with a low heat ouput
Lightweight and compact design

We continue our 50TH ANNIVERSARY CELEBRATION by honoring three individuals who were influential in the Guild's formation: Dr. S. Dillon Ripley, Rutherford J. Gettens and Robert M. Organ.
Thursday, January 5, 2017
5:30pm to 7:30pm

The Washington Conservation Guild is 50 years old!
It is the time of year when I assess what I have accomplished so far and how much more I would like to do. One of the better things I have done has been to join the Washington Conservation Guild and become active in the local community. We are a dedicated group of people who work in conservation and related fields.
WCG, AIHA Potomac Section, and the Smithsonian co-host collaborative Professional Development Seminar "Control of Health and Safety Hazards in Museums and Collection Care".

Lecture on December 8, 2016 at 4:00 pm in the MacMillan Education Center at the Smithsonian American Art Museum
https://www.facebook.com/events/227775290992091/
This public lecture by Daria Keynan is being given in conjunction with the workshop "Cleaning and Conductivity: New Methods for Treating Paintings, Works on Paper and Textiles" at the Lunder Conservation Center. The workshop is full, but more information can be found by going to the AIC Courses website.

This Wednesday, November 30th Caring for Textiles invites you to a Studio Open House
please join them between 1-8pm, to see local friends and their current projects!
3924 Ingomar St. NW, Washington DC 20015
the closest Metro is Friendship Heights, on the Red Line
ample street parking is available
RSVP's are appreciated: 202-362-1941

We continue our 50th Anniversary Celebration with a party from 5:00pm to 7:30pm Thursday, December 1, 2016 at The Hill Center with The Gunston Manor Band!