News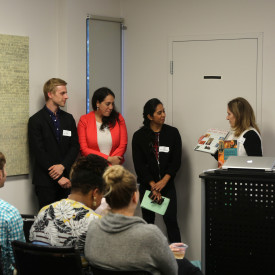 Each year, WCG's Sidney S. Williston Memorial Fund for Interns and Fellows provides up to five interns/fellows with free membership in the Washington Conservation Guild.
Our AIHA Health and Safety colleagues are organizing presentation Sessions dedicated to Museums, Historic Sites, Collection Care Risk Management for their National Conference, May 21-23, 2018, Philadelphia. The deadline for abstract submission is September 6, 2017.
WCG members are encouraged to submit an abstract dealing with a health, safety, or environmental issue relating to a conservation project. 

Washington Conservation Guild presents a Special Workshop for the 2017/2018 Season
Make a Pewter Spoon with Ed McManus!
Saturday, October 7, 2017
10:30-2:30
Past WCG President Ed McManus has generously donated several of his spoons as gifts at WCG events, and they are in short supply. At this event, he will demonstrate how to make a pewter spoon, then each participant will have the opportunity to make their own from start to finish.

The Washington Conservation Guild, the Potomac Section of the American Industrial Hygiene Association and the Smithsonian Institution's Office of Safety, Health and Environmental Management will once again collaborate with the Lunder Conservation Center to host the second annual Professional Development Seminar, building upon last year's theme:
Control of Health and Safety Hazards in Museums,
Historic Sites, Conservation Treatment and Collection Care.

On Tuesday, August 29, 2017, at 1:30 pm in the Library of Congress James Madison Memorial Building, Andrew Davis (Chemist, Preservation Research and Testing Division, Library of Congress) will present the lecture: Centuries of Cellulose: Lessons Learned from the Molecular Analysis of Cellulose in Aged Paper Collections. 

The Washington Conservation Guild is pleased to present the FIRST meeting of the 2017/2018 season!
Please join us Thursday, September 14, 2017 from 5:00 – 7:00 p.m. in the space we have reserved upstairs at SHAKE SHACK in Union Station.
LET'S KICK OFF THE 51st SEASON OF THE WASHINGTON CONSERVATION GUILD
with
50 Shakes for 50 Years!
The Smithsonian's National Air and Space Museum (NASM) is looking for someone to conduct artifact condition assessments.  The goal of the assessment is to identify any hazardous materials that need mitigation; document the current physical condition in order to establish a strategic conservation treatment plan; to identify artifact handling concerns; to catalog collection items; to create, enhance, and correct existing records in the museum's collection information system, The Museum System (TMS); and to assist with a variety of collection digitization projects associated with these items. 

Protecting Collections: Disaster Prevention, Planning and Response (Part I and Part II)
Presented by the Conservation Center for Art & Historic Artifacts
One of the most important steps a cultural institution can take to safeguard its collections is to be prepared in the event of an emergency or disaster. This two-part program will guide participants in risk mitigation, emergency planning and preparedness, response, and recovery.
THURSDAY, JULY 20, 2017
3:30 – 5PM
Event Information: http://s.si.edu/2rOio0y
Computer processing of scientific images of artworks—using algorithms from engineering applications—has advanced rapidly over the past decade. These tools have allowed researchers to more clearly identify authenticity and dating, while also shedding light on artists' original intentions.

Registration has been extended to Friday, June 16th!
Summer Picnic 2017 801 E. Main Street, Berryville, Va
Date: Saturday, June 17, 2017 10:00 AM EDT
Summer picnic and tours of the Historic Clermont Farm in Berryville, VA!
Join APT DC and the Latrobe Chapter of the SAH for this great opportunity to visit the farmhouse and outbuildings at Clermont Farms.