Reviews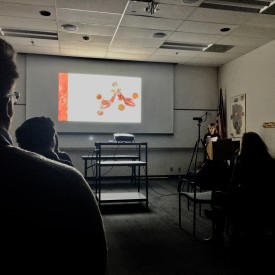 In the Collaborating and Connecting Ring, Dawn Wallace, Objects Conservator, National Museum of American History, presented on her work with the ruby slippers. In the 1939 classic film, The Wizard of Oz, Dorothy Gale played by Judy Garland wore the iconic ruby slippers down the yellow brick road.

Jessica Unger, the Emergency Programs Coordinator at Foundation of the American Institute for the Conservation of Historic & Artistic Works (FAIC), presented "The "New Normal" of Climate Change: What You Can Do to Prepare."

Speaker/Author: Katie Wagner
Thursday, January 4, 2018
Collections Emergency Response Ring
Speaker: Nora Lockshin, with Vicky Lee, Elizabeth Milnarik, Jennifer Groman in Q&A.
Authors: Nora Lockshin, Vicky Lee, Beatriz Centeno-Pineiro, Diana Pardue
Thursday, January 4, 2018
Collections Emergency Response Ring
In November, the WCG held their meeting at the Walters Art Museum where the Walter's Painting Conservation Staff –Eric Gordon, Head of the Department, Karen French, Senior Conservator, and Pamela Betts, Associate Conservator –presented their on-going treatment of three Italian wall panels or spalliere.
WCG, AIHA Potomac Section, and the Smithsonian co-host collaborative Professional Development Seminar "Control of Health and Safety Hazards in Museums and Collection Care".

Christina St. Germain gave the first talk in ring 3, which was entitled: An Investigation into the Historic Painted Finishes of the Senate Reception Room (S-213), U.S. Capitol, Washington, DC: The Ceiling, Enframements, and North Lunette.

For its February meeting, WCG hosted a debate: Star Wars vs. Star Trek: Which pop-culture franchise is the most worthy of preservation? Speakers included Ariel O'Connor, National Air and Space Museum Conservator; Beth Richwine, National Museum of American History Senior Objects Conservator; Mary Coughlin, George Washington University Assistant Professor and Director of the Distance Education Program; and Curtis Bateman, International Brotherhood of Electrical Workers Museum Curator.

The Washington Conservation Guild December Meeting and Holiday Party was held at the Hill Center at the Old Naval Hospital in SE Washington, DC. The speaker for the evening was Corine Wegner, the Smithsonian Institution's Cultural Heritage Preservation Officer.

In her talk, titled Finding Their Place: The History and Conservation of Plaster, Diane Fullick, an objects conservator in private practice, presented on her on-going conservation treatment of plaster casts at the Maryland Institute College of Art (MICA).