Workshops & Conferences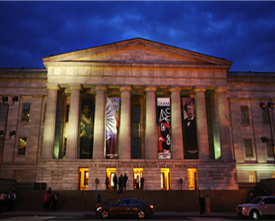 The  Washington Conservation Guild, the Potomac Section of the American Industrial Hygiene Association and the Smithsonian Institution's Office of Safety, Health and Environmental Management with the Lunder Conservation Center present the 2nd Annual Safety and Cultural Heritage Summit: Preserving Our Heritage and Protecting Our Health. Co-presentations by IH/Safety and Conservation/Collection Care professionals build on last year's theme: Control of Health and Safety Hazards in Museums, Historic Sites, Conservation Treatment and Collection Care.
Our AIHA Health and Safety colleagues are organizing presentation Sessions dedicated to Museums, Historic Sites, Collection Care Risk Management for their National Conference, May 21-23, 2018, Philadelphia. The deadline for abstract submission is September 6, 2017.
WCG members are encouraged to submit an abstract dealing with a health, safety, or environmental issue relating to a conservation project. 

Washington Conservation Guild presents a Special Workshop for the 2017/2018 Season
Make a Pewter Spoon with Ed McManus!
Saturday, October 7, 2017
10:30-2:30
Past WCG President Ed McManus has generously donated several of his spoons as gifts at WCG events, and they are in short supply. At this event, he will demonstrate how to make a pewter spoon, then each participant will have the opportunity to make their own from start to finish.

A workshop hosted by Ancestral Knowledge
October 14, 2017
Join Nick Neddo, artist, author, naturalist, primitive skills educator and craftsman, for a hands-on workshop on the ancient process of crafting local materials into paint and paintbrushes.

Protecting Collections: Disaster Prevention, Planning and Response (Part I and Part II)
Presented by the Conservation Center for Art & Historic Artifacts
One of the most important steps a cultural institution can take to safeguard its collections is to be prepared in the event of an emergency or disaster. This two-part program will guide participants in risk mitigation, emergency planning and preparedness, response, and recovery.

With more frequent severe weather and civil discontentment, the risk to cultural heritage sites is at an all time high.  Having a strategy and tools in place simplifies the response to collection emergencies and ensures an institution will recover swiftly to return to its mission.
Date and Time: May 19th ,  9:00  a.m. to 12:00 p.m.

Saturday, April 22, 2017 from 9:00 am until 4:30 pm
Sunday, April 23, 2017 from 9:00 am until 4:30 pm
Congressional Cemetery, collaborating with the D.C. Metro Chapter of the Association for Gravestone Studies, will be hosting Operation Conservation, a workshop to provide educational outreach for those in our area who are interested in cemetery conservation.

Cultural Heritage and Data: The Role of Research Infrastructures
Monday, December 5, 9:00-5:00 EST, at the Library of Congress
Tuesday, December 6, 9:00-4:00 EST, at the Smithsonian Institution

December—Washington, DC Registration deadline: Friday, November 18
Conservation Strategies for Archaeologists
Washington, DC—December 5-6, 2016

Do you preserve leather in your conservation practice? Have you wondered about what it really takes to turn animal skins into usable leather for garments, tools, or book covering? Gain hands-on, practical experience and insight into leather production at the Brain Tanning Buckskin – Natural Leather Making workshop hosted by Ancestral Knowledge.