Workshops & Conferences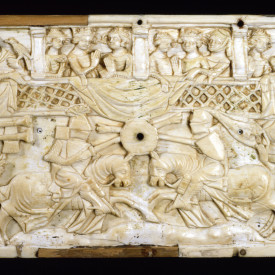 A two-day workshop: Monday, April 6 – Tuesday, April 7, 2015; 10 a.m. – 5 p.m.
The Walters Art Museum, Baltimore, Maryland
Organized by Terry Drayman-Weisser
Taught by Terry Drayman-Weisser and Bobby Mann
$220 AIC members; $400 non-members
Registration is first-come, first-served. Early registration is highly recommended, as the program is limited to 12 participants.

Rare Book School would like to draw your attention to the upcoming November 7th deadline for the Fath Scholarship for Artist and Artisans of the Book.
"These scholarships will be awarded to individuals who routinely engage in hands-on work with printed artifacts, and who are ineligible for funding or financial aid through their places of work.
Collections & Exhibitions Collaborative
Invites YOU to:
Off The Beaten Track:
A Workshop for Trouble Shooting—
Logistics in the Rigging and Packing of Challenging Objects
Date: December 3rd, 2014
Time: 10:00 am – 12:30 pm
Conference Presented by the Conservation Center for Art & Historic Artifacts
With major support from the National Endowment for the Humanities
Hosted and co-sponsored by The College of Physicians of Philadelphia
October 27 – 28, 2014
8:30 – 9:00am  Registration & Refreshments
9:00 – 5:00pm    Program
About the Program:
Virginia Association of Museums 2015 Annual Conference
March 7-10, 2015
Omni Richmond Hotel in Richmond's Historic Shockoe Slip
#HaveYouSeenUsLately?
The Virginia Association of Museums invites you to submit a session proposal to help craft an exciting program for the 2015 Annual Conference. Applications are currently being accepted through Monday, August 4, 2014.

Thursday March 13, 2014
9:30 am to 4:30 pm
Limited spaces remaining.
The Foundation of the American Institute for Conservation of Historic and Artistic Works, in collaboration with the Smithsonian National Museum of the American Indian, National Gallery of Art, Library of Congress, and the Smithsonian National Museum of American History, presents a Collaborative Workshop in Photograph Conservation

Announcing INCCA-NA's 2014 Artist Interview Workshops:
Lunder Conservation Center
Washington, DC
March 20-21, 2014

A Workshop with Henk van Keulen of the Cultural Heritage Agency of the Netherlands
Monday, November 18, 2013
MacMillan Education Center | Smithsonian American Art Museum
Unvarnished paintings can typically be cleaned by swab rolling the surface with water or aqueous solvents, except in cases where surfaces are sensitive to water or other solvents. In such cases, alternatives are mandatory, as dry cleaning, based on mechanical action.

Workshop with Bartosz Dajnowski
Wednesday, November 20, 2013
Luce Foundation Center, Luce Board Room | Smithsonian American Art Museum
Join Bartosz Dajnowski, Objects Conservator and Vice Director of the Conservation of Sculpture & Objects Studio, Inc., as he presents a three-session workshop about the use of laser ablation in cultural heritage conservation.  During the morning session, Dajnowski will introduce the process of laser cleaning, including concepts related to ablation parameters, the logistics of using lasers in museum settings, and an overview of lasers currently on the market.