Events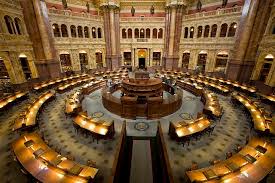 On Wednesday, April 12, 2017, at 11:00 am in the Library of Congress James Madison Memorial Building, Alberto Campagnolo (CLIR/DLF/Mellon Fellow for Data Curation in Medieval Studies, Preservation Research and Testing Division, Library of Congress) will present the lecture: From Words to Diagrams: An Automated Visualization of Historical Bookbinding Structures. Researchers use both images (pictures and drawings) and verbal descriptions (words) to document artifacts.

Book Discussion Explores How Arab Papermaking Came to Italy
The Arab art of papermaking by hand came to Italy in the 13th century, specifically to the city of Fabriano. In "Fabriano: City of Medieval and Renaissance Papermaking" (Oak Knoll Press, in association with the Library of Congress, 2016) Sylvia Rodgers Albro discusses how the Italian city was well-positioned to develop as the heart of this artisan craft.

Exploring the Conservation of Folk Art
Thursday, January 26, 2017 at 4 p.m.
Shelburne Museum Objects Conservator, Nancie Ravenel, will present a lecture investigating the conservation of American folk art. How is folk art conservation similar and different from other conservation efforts, if at all?
Location: MacMillan Education Center
Smithsonian American Art Museum
8th & F St.

Lecture on December 8, 2016 at 4:00 pm in the MacMillan Education Center at the Smithsonian American Art Museum
https://www.facebook.com/events/227775290992091/
This public lecture by Daria Keynan is being given in conjunction with the workshop "Cleaning and Conductivity: New Methods for Treating Paintings, Works on Paper and Textiles" at the Lunder Conservation Center. The workshop is full, but more information can be found by going to the AIC Courses website.

This Wednesday, November 30th Caring for Textiles invites you to a Studio Open House
please join them between 1-8pm, to see local friends and their current projects!
3924 Ingomar St. NW, Washington DC 20015
the closest Metro is Friendship Heights, on the Red Line
ample street parking is available
RSVP's are appreciated: 202-362-1941

As part of our 50th year anniversary celebration, the Washington Conservation Guild has been given the exciting opportunity to visit Glenstone in Potomac, Maryland on Saturday October 22 at 2:00 for an exclusive guided tour with our fellow member, Steven O'Banion, Glenstone's Director of Conservation. We are happy to offer this tour to our current members (so please join or renew your membership if you haven't already). 

"Conservation of Our Collection: Claggett Wilson"
Thursday, September 28, 2016, 4:00 pm
MacMillan Education Center
Join paper conservator Catherine Maynor as she discusses artist and D.C.-native, Claggett Wilson; she will focus on his watercolors both as works of art and as documents of wartime trauma.
For more information, see the SAAM calendar
http://s.si.edu/2cWgyWI

The Advisory Council on Historic Preservation (ACHP) is pleased to make you aware of an event at the U.S. Capitol Visitor Center that commemorates the 50th anniversary of the passage of the National Historic Preservation Act in Washington, D.C., on Friday, September 23. The "Preservation Day" event for the general public, which will take place from 10 a.m.

Thursday, September 22, 2016, 4:00 pm
Smithsonian American Art Museum
McMillan Education Center
This presentation by Chris Stavroudis will introduce the various uses of silicone solvents to conservators in both theory and practice and will review the formation and uses of emulsions, both conventional and micro- emulsions.

A collaborative professional seminar focused on controlling health and safety risks from preparing, treating, managing, and exhibiting artistic, historic and natural science collections will be offered by the Potomac Section of the American Industrial Hygiene Association, the Washington Conservation Guild and the Smithsonian Institution's Office of Safety, Health and Environmental Management.