Events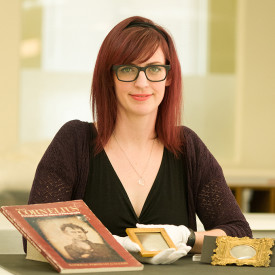 The Library of Congress Conservation Division is pleased to announce a lecture given by Rachel Wetzel, Photograph Conservator, Conservation Center for Art and Historic Artifacts, on "Conservation Science and the Daguerreotype: Preserving Our Earliest Photographic Treasures" Thursday, September 1, from 10:00 – 11:00 am, Library of Congress

Join us on July 7, 2016 at 4:00 pm in the MacMillan Education Center
at the Smithsonian American Art Museum
to hear Dragan Espenschied, Rhizome's Digital Conservator, speak about his work.
The preservation and re-staging of artworks created for computers and networked computers has proven challenging for collection caretakers. "Software" seems to be abundant and fluid outside of memory institutions, upon entering it appears scarce and incredibly complicated.

The Library of Congress Conservation Division is pleased to announce a lecture given by Paul Messier, Head, Lens Media Lab, Institute for the Preservation of Cultural Heritage, Yale University, on "Expressive Dimensions of Photographic Paper" Tuesday, July 12, from 10:30 – 11:30 am, Library of Congress James Madison Memorial Building, Pickford Theater (Third Floor), 101 Independence Ave SE.

Once again the WCG outreach booth and a group of volunteers partnered with the Historical Society of Frederick to offer an appraisers fair open to the general public.  The Treasured Heirloom Event is a fundraiser for the Society and is still going strong after 18 years.
Follow the link to a lovely write up in The Frederick News-Post!

The seminar will explore efforts to sustain local artistic practices and cultural identities as the world becomes increasingly globalized.

The Library of Congress Conservation Division is pleased to announce a lecture given by New York-based Paper Conservator Sarah Bertalan on Foxing and Reverse Foxing: Condition Problems in Modern Paper and the Role of Inorganic Additives on Monday, February 29, from 11:00 am – 12:00 noon

This is a special invitation for a behind the scenes tour of the restoration work in the Main Hall at Union Station. Join members of The Gilders' Studio and  the restoration team  for an up close and personal look at the final phase of  gilding and plaster restoration high above the floor of Main Hall.

The Society of American Archivists Preservation Publication Award Subcommittee is seeking nominations for the prestigious Preservation Publication Award.  Do you know of an outstanding preservation-related work published in 2015?  Would you like to see the author(s) or editor(s) recognized for contributing to preservation and the archives profession?  Please consider submitting a nomination prior to the deadline of February 28, 2016.

The WCG Outreach Booth will participate in the annual National Building Museum's  "Big Build". The event takes place on Saturday, September 19th, from 10 AM to 4PM. The event is located at 401 F Street NW, Washington DC.

PastForward, the National Preservation Conference, is the premier educational and networking event for those in the business of saving places. Held in Washington, D.C., November 3-6, PastForward is brought to you by the National Trust for Historic Preservation.